Experience The Barnegat Bay culture and tradition
Barnegat Bay Fishing Charters offers customized,
light tackle, bay fishing trips for families and individuals;
while most trips depart from Holiday Harbor Marina
in Waretown, NJ  just minutes off Garden State
Parkway Exit 69, for our clients living or vacationing
on Long Beach Island we can also arrange departures
from the northern end of the island.
Learn More from Capt. Joe Rizzo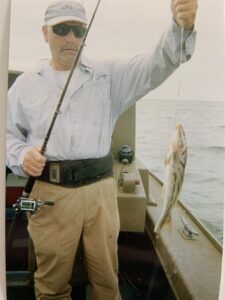 Capt. Joe Rizzo, a full-time bayman, has worked on Barnegat Bay since childhood, harvesting clams, tending crab and eel pots, guiding waterfowl hunts and chasing down local sportfish like summer flounder, weakfish, bluefish and striped bass. Working these local waters 365 days a year gives Joe unique insight into the varied species and seasonal tactics, which in turns allows him to cater to each customer's individual interest and level of experience.
The boat is a 25-foot Sea Hawk with forward cabin to keep you warm and dry, and is powered by a 200hp Yamaha four-stroke. Fishing with a professional bayman like Joe allows you the luxury of being able to jump aboard with a true, working professional who has the local knowledge and experience needed for a successful day on Barnegat Bay.
Charters run half-day or full-day, and the boat is ideal for families! One great way to end a summer fishing trip is by helping Joe tend his crab pots, which means you can be assured of fresh blue claw crab to go with your day's catch of fish. Not just the catch, but you'll experience the Barnegat Bay culture and tradition as it's been enjoyed for generations.
All bait and tackle can be provided, or feel free to bring along your favorite light tackle outfits. Call Capt. Joe for a local fishing report, and be sure to ask about his upcoming schedule.
Captain Joe Rizzo
(609) 618-3847
Barnegat Bay Fishing Charters
Fishing On the Barnegat Bay at Any Age